Session Updates
Monitor your legislation: For instructions on using the Texas Legislature's Bill tracking system
Texas Legislature Online: To monitor legislation and the activities of the Legislature, go to the official Texas Legislature website. On this website you can search for legislation, monitor the status of legislation and even establish your own tracking lists of legislation of interest to you.
Texas Legislative News – February 17, 2017
​
TCA Priority Legislation Filed
Statute of Repose
HB 1053 by Representative Morgan Meyer (R-Dallas) was filed on January 17 and is awaiting referral to a House Committee.
The Statute of Repose is a statutory way to cut off legal rights if they are not acted on by a certain deadline. In Texas, the Statute of Repose requires a person to file suit against a contractor for a construction defect during the first 10 years after substantial completion of the project. During this 10-year period, contractors are liable for damages, injury or death which arise from a deficiency in the construction or repair of an improvement to property.
While it is important that there be a finite time limit during which a claim for a construction defect can be brought against a contractor, 10 years is a long time to have potential liability issues hanging over the construction team. The odds are low that a true defect in construction will arise after 5 years. After 5 years, the line between defect and wear and tear gets very blurry. Improper or lack of maintenance to a building also presents a complicating factor. Importantly, documents and witnesses tend to be less available and harder to produce as time goes by. Also, on projects covered by a consolidated insurance program, the state only requires coverage for completed operations (the type of insurance that may provide coverage for after construction claims) for up to 3 years. Thus, contractors on these projects most often have no insurance for the years 4-10 that the consolidated insurance program does not cover.
Furthermore, to combat the lawsuits that are manufactured by consultants in the 9th year of a 10- year statute of repose, a shorter statute period will increase the odds of a defendant being able to produce documents and witnesses with first-hand knowledge of the construction. A shorter time frame will lessen the likelihood that the case is a "shakedown" of construction companies' insurance and instead be a true case on whether there is a true construction defect. HB 1053 will reduce the Statute of Repose in Texas from 10 years to 5 years.
Other TCA Priority Legislation to be Filed
The remaining bills that are part of the TCA legislative package to be filed soon in the Texas Legislature will address the following issues:

Lien Law Modernization
Of all the states, Texas has the most burdensome and complex lien law scheme. The Texas Constitution, as adopted in 1876, in part, states that "Mechanics, artisans and materialmen, of every class, shall have a lien upon buildings and articles made or repaired by them for the value of their labor done thereon, or material furnished therefor[e]; and the Legislature shall provide by law for speedy and efficient enforcement of said liens." In line with the Texas Constitution, the Texas Legislature has enacted laws dealing with the statutory lien rights for people furnishing labor and material on private work.
The current lien laws are very difficult for attorneys to understand and nearly impossible for the lay person to understand. For example, the excessive amount of required notices can serve as a trap for honest mistakes which prevent claimants from protecting their lien rights. The lien law has become complex due to the various substantial changes over the past 100+ years.
The Texas lien law system needs to be modernized and simplified so that the construction team on a project will be better able to comply with the law and secure their lien rights. Some of the changes that should be considered include an early notice system that is consistent with many other states, eliminating several confusing concepts unique to Texas, and providing owners, contractors, claimants, lenders, suppliers and title companies with more timely and accessible information regarding projects via an Internet portal. The law should no longer require fund-trapping notices or retainage. This modernization will provide a more reliable close-out procedure which will result in fewer perfected lien claims on projects.
Responsibility for Defective Plans and Specifications
In Texas, based on the two Texas Supreme Court cases, while it seems reasonable for a contractor to rely on plans and specifications prepared by design professionals hired by the project owner to build a project, if the work turns out to be defective due to an error in the plans and specifications, the contractor bears the risk of liability for the defective work. Typical insurance does not cover this obligation and the possible loss may well exceed a company's net worth.
In Texas, contractors are not licensed to prepare construction drawings, but because of the Texas Supreme Court cases, a person who is not allowed by law to draft the documents is being required to warranty those documents. The construction team should not be liable for construction that is defective due to erroneous documents furnished by the owner.
School Background Checks
Before work can begin on certain public school projects, individuals who will be working on the project are required to pass a background check. In many cases, different school districts have different background check requirements. With over 1,200 school districts in Texas, this is a significant problem. Having to comply with these different background checks is a costly process that also takes extra time to complete. This cost is ultimately borne by the school districts.
Legislation is needed to cut construction costs to school districts by creating uniformity, predictability and portability among school districts across Texas for background checks of construction workers on certain public school projects.
Other Items
HB 744 by Representative Jessica Farrar (D-Houston) will amend Chapter 38 of the Civil Practice & Remedies Code to add "other legal entity" to Sec. 38.001(a) so attorney fees can be recovered from an individual, corporation or other legal entity, including partnerships and LLCs, for claims for services, labor or materials.
Work is underway on a bill designed to give contractors a right to repair a defect in construction prior to the owner filing a suit against the contractor. The bill will likely provide notice, a right to inspect, and a right to repair.
Other Construction-Related Legislation Being Followed
HB 639 by Representative "Doc" Anderson (R-Waco) will authorize school districts to obtain health, liability and auto insurance coverage to protect businesses that partner with the school district to provide students career or technology training.
HB 1304 by Representative Oscar Longoria (D-Mission) and SB 592 by Senator Eddie Lucio, Jr. (D-Brownsville) would establish a rebuttable presumption of employment relating to the classification of workers under the Texas Unemployment Compensation Act. The bill calls for a penalty of $200 per employee to be assessed against employers who misclassify their employees.
HB 1477 by Representative Armando Walle (D-Houston) requires workers' compensation insurance coverage for building and construction contractors.
SB 22 by Senator Larry Taylor (R-Friendswood), HB 1237 by Representative Eddie Lucio III (D-Brownsville) and HB 1842 by Representative Helen Giddings (D-Dallas) would establish a Pathways in Technology College High School program (P-TECH).
SB 23 by Senator Charles Schwertner (R-Georgetown) will require state contractors to participate in the federal electronic verification of employment authorization program, or E-Verify.

TCA Members are encouraged to talk with their Representatives and Senators to seek their support for the TCA legislation. TCA will keep you informed about the status of these legislative initiatives through our Legislative Alerts.

We will continue to send updates to TCA members on a regular basis to ensure you are kept up to date on legislative activity related to our bills and other bills of importance to our industry.

Call for Cases
Please send any information regarding problems you've experienced on the above issues to Mike White at mwhite@texcon.org or call him at 512-473-3773. It is important that legislators know actual business situations that have given rise to filing bills to deal with those issues.
In this Section
Become a Member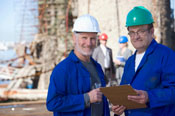 WHEN SUBCONTRACTORS WORK TOGETHER, POWERFUL THINGS HAPPEN!