Session Updates
Monitor your legislation: For instructions on using the Texas Legislature's Bill tracking system
Texas Legislature Online: To monitor legislation and the activities of the Legislature, go to the official Texas Legislature website. On this website you can search for legislation, monitor the status of legislation and even establish your own tracking lists of legislation of interest to you.
Texas Legislative News – May 26, 2017
The 85th Regular Session of the Texas Legislature is in its final days, with adjournment sine die coming on Monday, May 29. Deadlines for the passage of House and Senate bills have come and passed.
-----Status of TCA Priority Legislation-----
On Tuesday, May 23, SB 1215 by Senator Bryan Hughes (R-Mineola) and Representative Hugh Shine (R-Temple) was considered by the House of Representatives. A very strong team of opponents to the legislation had been mobilized to fight the passage of the bill. While their arguments against SB 1215 were not accurate, the group was able to sway a large number of Representatives to their side. Prior to the bill coming up for debate, the House sponsor and other House members supporting the bill determined that there was not a sufficient number of Representatives supporting the legislation to be able to pass it. In lieu of the language in the bill after it was approved by the House Business & Industry Committee, the bill was amended to require joint House/Senate committee to hold an interim study on various important issues related to construction. The amended version of SB 1215 was then passed by the full House. It now goes back to the Senate for concurrence in the House amendments to the legislation.
For more information on Responsibility for Defective Plans and Specifications, click here.
For more information on the complete substitute amendment adopted, click here.
State Breach of Contract
Generally, statutes allowing for the breach of sovereign immunity defense restrict or prevent the recovery of attorney fees absent a contractual agreement for them. HB 2128 and HB 2121, both by Representative John Cyrier (R-Bastrop), make amendments to existing statutes governing immunity from lawsuit by governmental entities and the recovery of attorney fees in those types of lawsuits. HB 2121 was passed by the Senate on May 23. It now goes to the Governor for his signature. HB 2128 died in the Senate State Affairs Committee, but some provisions from HB 2128 were amended into SB 533 on the House floor prior to the House passing that bill. The Senate did not concur in the House amendments and it is now in a conference committee where those amendments will be addressed.
School Background Checks
HB 3270 by Representative Dwayne Bohac (R-Houston) was passed by the Senate in the early morning hours of May 25. This legislation will amend the Education Code to limit criminal background checks on construction personnel to those individuals who could come in direct contact with students on a school construction project. A comprehensive amendment to the bill that amends the Code of Criminal Procedure and the Government Code was added on the Senate floor. Since the bill was amended in the Senate, it will have to go back to the House for consideration to concur in the Senate amendment. At this time, it is not known what action will be taken by the House - concur in the Senate amendment or request a conference committee to workout the differences in the House and Senate version. If a conference committee is appointed, it will have a very short time to work to secure the bill's passage.
For more information on School Background Checks, click here.
Attorney Fees
HB 744 by Representative Jessica Farrar (D-Houston) died in the Senate. The legislation would have amended Chapter 38 of the Civil Practice & Remedies Code to add "other organization" to Sec. 38.001(a) so attorney fees can be recovered from an individual, corporation or other organizations, including partnerships and LLCs, for claims for services, labor or materials.
-----Other Construction-Related Legislation Being Followed-----
SB 23 by Senator Charles Schwertner (R-Georgetown) would have required state contractors to participate in the federal electronic verification of employment authorization program, or E-Verify. The bill died in the House Calendars Committee.
HB 639 by Representative "Doc" Anderson (R-Waco) was passed by the Senate on May 19 and was sent to the Governor on May 22. HB 639 will authorize school districts to obtain health, liability and auto insurance coverage to protect businesses that partner with the school district to provide students career or technology training.
SB 22 by Senator Larry Taylor (R-Friendswood) will establish a Pathways in Technology College High School program (P-TECH). SB 22 was passed by the House on May 20 and was sent to the governor on May 23.
Education/Workforce Legislation
TCA has been monitoring and registering support in various legislative committee meetings throughout the session. Below are a few of the bills TCA has been supporting.
HB 1469 by Representative Ernest Bailes (R-Shepherd) would allow CTE teachers without baccalaureate degrees to teach in charter schools. The bill was passed by the Senate on May 24 and should be sent to the Governor soon.
HB 2790 by Representative James White (R-Hillister) would add flexibility for apprenticeship programs offered in school districts. This legislation was passed by the Senate on May 24 and should be sent to the Governor soon.
HB 3706 by Representative Eddie Lucio III (D-Brownsville) would add options for alternative education programs for workforce development for at-risk students. The bill was passed by the Senate on May 24 and should be sent to the Governor soon.
SB 2105 by Senator Borris Miles (D-Houston) would require more Texas Workforce Commission information to be shared with high school students, including CTE partnerships with business and field-based learning opportunities for students. This legislation was signed by the Governor on May 19 and will be effective on September 1, 2017.
In this Section
Become a Member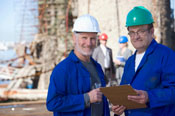 WHEN SUBCONTRACTORS WORK TOGETHER, POWERFUL THINGS HAPPEN!