Newsroom
Several bills of interest to the construction industry passed by the Texas Legislature earlier this year became law on September 1, 2015. Those bills are as follows:
HB 1 – This legislation contained the state budget for the biennium beginning September 1, 2015. In that budget, the state appropriated just under $1 billion for construction of new state buildings. In addition, approximately $630million was appropriated for deferred maintenance projects at state facilities.
HB 100 – This bill authorizes certain higher education institutions across the state to issue $3.1 billion in revenue bonds to fund 64 construction projects over the next two years.
HB 1455 – This new law restricts condominium unit owners' associations in condominiums that have eight or more units from filing lawsuits or initiating arbitration proceedings to resolve a claim relating to the construction or design of a unit on behalf of all of the owners unless they first obtain an inspection and written independent, third-party report that identifies and describes the condition of the specific units or common elements that are subject to the claim and obtain approval from unit owners holding more than 50 percent of the total votes in the association at a regular, annual or special meeting.
HB 2475 – This bill establishes a center for alternative finance and procurement within the Texas Facilities Commission to consult with governmental entities regarding best practices for procurement and financing of qualifying public-private partnership projects and to assist governmental entities in the receipt of proposals, negotiation of interim and comprehensive agreements, and management of qualifying public-private partnership projects.
HB 2634 – This measure amends the Government Code to remove the exception to a prohibition against a governmental entity's project architect or engineer serving, alone or in combination with another person, as the construction manager-at-risk. The new law is intended to eliminate conflicts of interest in certain governmental construction contracting.
Note that the new law calling for the disclosure of information related to consolidated insurance programs (CIPs) will not become effective until January 1, 2016.
Press Releases
Gov. Perry Signs Landmark Education Reform Bill Into Law, Jobs for Texas coalition
Texas Bolsters Career and College Readiness, Office of Governor Rick Perry
Texas Construction Association News Headlines
Margins Tax Rule Revision Benefits Construction Companies
Construction Laws Effective 9/1/13
Employers to Provide Notice of Coverage by October 1
Legislative Wrap-up in Summer Newsletter
Governor Perry Signs Sovereign Immunity and Worker Classification Bills
Become a Member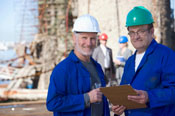 WHEN SUBCONTRACTORS WORK TOGETHER, POWERFUL THINGS HAPPEN!