Objectives & Accomplishments
Since its founding in 1998, TCA has led the way in lobbying for evenhanded construction law and unbiased regulations in the construction industry. TCA has grown to represent over 2600 subcontractors and suppliers in such issues as:
prompt payment
banning unreasonable indemnification clauses
lien law reform
surety issues
retainage
the elimination of reverse auctions for construction
workers' compensation reform
setting standards for consolidated insurance programs
contingent payment clauses
You can learn more about current issues here.
Out of approximately 6,000 bills that are filed by the Texas Legislature every session, TCA's experienced governmental affairs staff monitors approximately 300 bills each legislative session that impact the construction industry and it will lobby on many of those that have suffiecient activity during the process.
When the legislature is not in session, TCA members educate legislative candidates about TCA's issues. The Texas Construction Association's active Political Action Committee(TCA-PAC), provides support to candidates seeking legislative and statewide offices. The money raised by the TCA-PAC is distributed to candidates who support TCA issues.
In this Section
Become a Member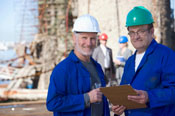 WHEN SUBCONTRACTORS WORK TOGETHER, POWERFUL THINGS HAPPEN!