Texas Construction Association
Texas Construction Association is a membership organization dedicated to creating and maintaining A VIBRANT AND PROSPEROUS BUSINESS CLIMATE WITHIN THE TEXAS CONSTRUCTION INDUSTRY for subcontractors and suppliers.

If you are a subcontractor or supplier, you will be glad to know that we're working on your behalf for:
fairly distributed responsibility and accountability

safe working environments

reasonable laws regulating the construction industry
TCA LISTENS TO ITS MEMBERS. WE WANT TO HEAR YOUR INPUT REGARDING CURRENT ISSUES. PLEASE SEND US YOUR COMMENTS.
SPONSORS OF THE 2014 TCA-PAC CLAY SHOOT
Event Sponsor:
MAREK FAMILY OF COMPANIES
Platinum and Gold Sponsors:
Andrews Meyers Attorneys at Law
Brady, Chapman, Holland & Associates
Chamberlin Roofing & Waterproofing
NECA Southeast Texas Chapter
Scott Macon Equipment
Southeast Fire Protection
Southwest Terrazzo Association
Become a Member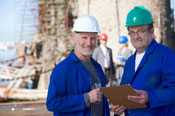 WHEN SUBCONTRACTORS WORK TOGETHER, POWERFUL THINGS HAPPEN!